Luxurious Fencing Options And Solutions
Whether you are looking for privacy, functional solutions to securing your pets, a boundary identifier for your property, or a design element that can elevate your landscape, vinyl fencing is the answer. Keep reading about the benefits and features of vinyl fencing and how they can enhance your property.
Vinyl fencing comes in a variety of styles that provide different functions. These styles are:
Privacy Fences

Semi-Private Fences

Post & Rail Fence

Picket Fences

Pool Fences
Each type of vinyl fence has a different look and provides different benefits, but before we get into those details, let's cover why vinyl is the best material to use when it comes to fencing.
THE BENEFITS OF VINYL FENCING
Appearance: When it comes to the landscaping of your home, we know that you want it to look its absolute best for as long as possible, and you want it to match the aesthetics of your home and its current landscaping. Vinyl fencing is a wonderful solution considering the fact that you can choose a variety of styles and colors to perfectly match the themes and visions that you have for your personal paradise. Whether you'd like a privacy fence or a post and rail fence, you'd like a tan fence or a white one, you can make it happen with vinyl fencing.
Durability: In addition to the versatile options provided by vinyl fencing when it comes to appearance, it remains unmatched when it comes to durability. Due to the nature of vinyl, vinyl fencing is guaranteed to last decades. This is because the material does not rot, deteriorate, or fall victim to pests. Essentially, you're investing in a material that looks just as good as other fencing materials, but will last much longer. In fact, it has been confirmed that vinyl is around five times stronger than wood! So not only will your vinyl fencing continue to look great for years to come, but you also won't need to spend money on frequent, expensive repairs.
Ease And Efficiency: On top of its appearance and durability, vinyl fencing is also outrageously easy to install and clean. When it comes to installation, vinyl fencing goes up fast, and it is a less intensive process than other types of fencing. Because of this, you'll save money regardless of whether you're trying to do it yourself or if you're having it professionally installed. And when it comes to cleaning, most times you can just wash it with a hose, and have it looking brand new! Beyond that, there are vinyl cleaning solutions that can be added to the equation for a deeper clean. But that's it! Soap, water, and the occasional scrub.
THE DIFFERENT STYLES OF VINYL FENCING
While vinyl offers a plethora of benefits as a material, there are other advantages and functions that can be utilized based on the style of vinyl fencing you decide to add to your landscape design. Now, we'll run through the different styles of vinyl fencing that is readily available, and the benefits of each.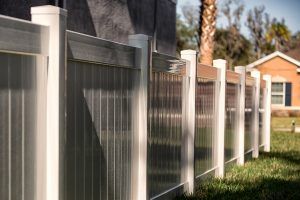 Privacy Fences: Privacy fences are the best bet for people who are looking to create their own personal oasis in their yard. When a yard or property is surrounded by a privacy fence, there are no views of the area from the street. Also, because privacy fences vary between six and eight feet in height, they effectively block sightlines from the ground.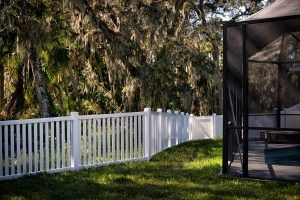 Semi-Private Fences: Semi-private fences are similar to privacy fences, however, they have features that allow light and airflow to travel through them. These features are usually integrated into a fence's design through horizontal slits, vertical slits, lattice designs, or a combination of lines and lattices. That being said, semi-private fences still in the six to eight foot height range, and the slits offer limited, fractal views of whatever lies behind them. This makes them a great option for those who are seeking ultimate levels of privacy without sacrificing airflow and light.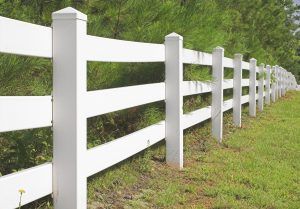 Post and Rail Fences: Post and rail fences are commonplace on ranches and farms because they perform the boundary-setting functions required of a fence while providing superior visibility. Additionally, there are a variety of styles — estate, paddock, and split rail — of post and rail fences. This means that you can select the perfect style of post and rail fencing to accommodate your home's current aesthetic or to accomplish your desired one.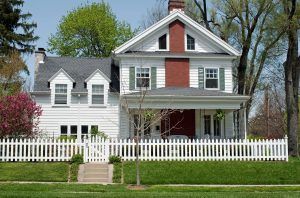 Picket Fences: If you want your home to be the epitome of the American Dream, you should probably get a picket fence. Similar to the post and rail fence, the picket fence is intended to identify and create boundaries. However, picket fences offer less visibility than post and rail fences which makes them the perfect solution for those who are looking for the middle ground between privacy fencing and post and rail fencing.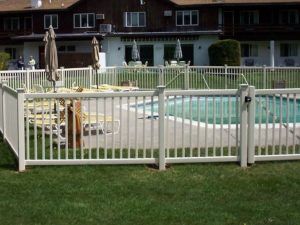 Pool Fencing: Pool fencing is largely utilized as a safety measure, and it's actually required for meeting pool regulations in some places. The function of pool fencing is to create a barrier around a swimming pool that will keep children and/or smaller animals from potentially falling into the water. Although they're mainly functional types of fencing, there is still an immense amount of opportunity to make pool fencing elegant and luxurious!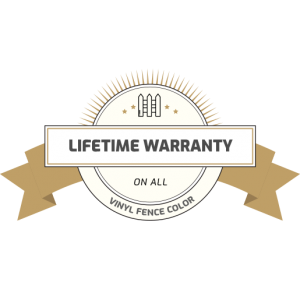 LUX LANDSCAPE DESIGN
If you're interested in adding vinyl fencing to your home in San Diego, make sure you're enlisting the experts in luxury landscape design. Our company will help you choose a fencing style that not only fits the aesthetic you'd like your home to have but also elevate your home's style. We're capable of making custom fencing, and we offer a lifetime warranty on all our fence's coloring!
Contact us today by clicking the link to get started with a free consultation! We look forward to hearing from you.