When working to create the perfect luxury swimming pool for your yard, a lot depends on how you approach the pool landscaping design. Pool landscaping can make all the difference between an exotic swimming pool and a lackluster pool that's nothing more than just a water-filled pit.
Pool landscaping is as important as the swimming pool itself and the landscaping design deserves as much attention as you give to swimming pool design. Great pool landscaping will provide for all the different things you want to do around the pool.
In addition to making the pool more functional, good landscaping defines the kind of ambiance you want around your swimming pool. As Archer Group explains, it will help you craft a unique identity for your home and make the pool area beautiful that people will be instinctively drawn to the water.
How should you design the landscaping around your pool? Read on to find the top tips for creating a pool landscaping design that is functional and outstanding.
Tips for designing a luxury swimming pool landscape
Choose a dominant theme
A theme is not entirely necessary for the landscape design, but having one makes it easier to choose your design elements. A theme gives clarity and identity to the design; you can inject consistency into the landscape with greater ease. Popular themes for luxury pool landscaping are desert, Mediterranean, tropical, and jungle.
2. Plan the design first
Plan all aspects of the design before you commit to paying for anything. This approach delivers the best results. Pool landscape designs have a lot of diverse components. To ensure no part is crowded out; you need a drawing of the landscaping – preferably in 3D – before you begin.
3. Choose plants carefully
Before you select plants for the landscape, you should know how they will behave in the different seasons of the year, how tall they grow, and how far they spread. The following are guidelines to follow when choosing plants for the yard:
Avoid invasive plants

Plants can be invasive in two ways. They can grow aggressively and spread far out, stifling other plants as they claim territory. The plant roots may be invasive; spreading so far underground that they damage your pool's structures and plumbing.

Don't use plants that attract bees and wasps

This means you should not use pollinator plants near the pool or you will have to contend with stinging bees and angry wasps.

Keep walkways clear

Plants that crowd the walkway or lounge area should be planted some distance away from these places. Keeping accessibility in mind is important for function and safety.

Avoid plants that shed a lot

These could be plants that release a prolific amount of pollen or plants that shed a lot of leaves, flowers, or needles. Removing leaves and pollen from the pool is a nightmare.

Do not choose thorny plants

Even if they are some distance from the poolside, thorny plants can still be a problem because children will often wander to play.

Choose low-maintenance plants

These will often be plants that are native to your region and which do not need a lot of water but can survive on their own across seasons.
4. Versatile shade structures
There are several types of these shade giving structures you can use for the pool area such as gazebos, umbrellas, arbors, pergolas, pool houses, and cabanas. Shade structures provide refuge from the heat of the sun and shelter when it is raining. There should be different types of these structures and their appearance should match the overall direction of the landscaping design.
5. Dramatic lighting scheme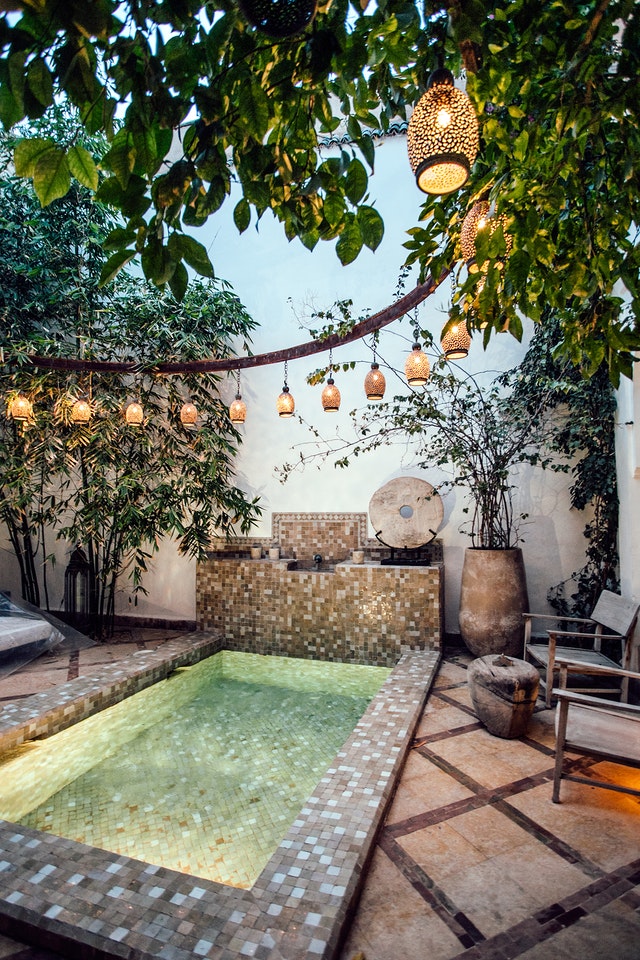 A well-designed lighting system is critical to the overall appeal of luxury pool landscaping design. The lighting should make the pool cinematic at night by dramatically highlighting aspects of the pool that are easily overlooked in the daytime. There should be an abundance of tree uplights, pathway lights, and spotlights in the design.
6. Create character with hardscaping
The hardscaping elements are a major part of what gives the landscaping its identity. Choosing and using hardscaping features is an art. This is where the quality of your landscape architect will really show. Hardscaping features provide contrast against the greenery of the yard and the features you chose should be diverse in color, shape, size, and texture.
7. Pay attention to entertainment
Entertaining guests is one of the reasons you want to create luxury landscaping in your yard. This means comfortable outdoor seating with facilities for music, cooking, movies, games, and anything else you do when you entertain. An outdoor kitchen fitted with an oven, grill, fridge, and sink is standard for such spaces. Outdoor TV and entertainment systems are also a requirement.
8. Take care of runoff water
The landscape design should ensure that runoff water does not get into your pool. For this, you need an experienced pool builder and landscape designer. A luxury pool loses its appeal if it is contaminated with dirty water from the adjacent areas. This often results from how the surrounding soil is graded relative to the pool. Planning for this from the outset will help you avoid problems later.