Infinity Pools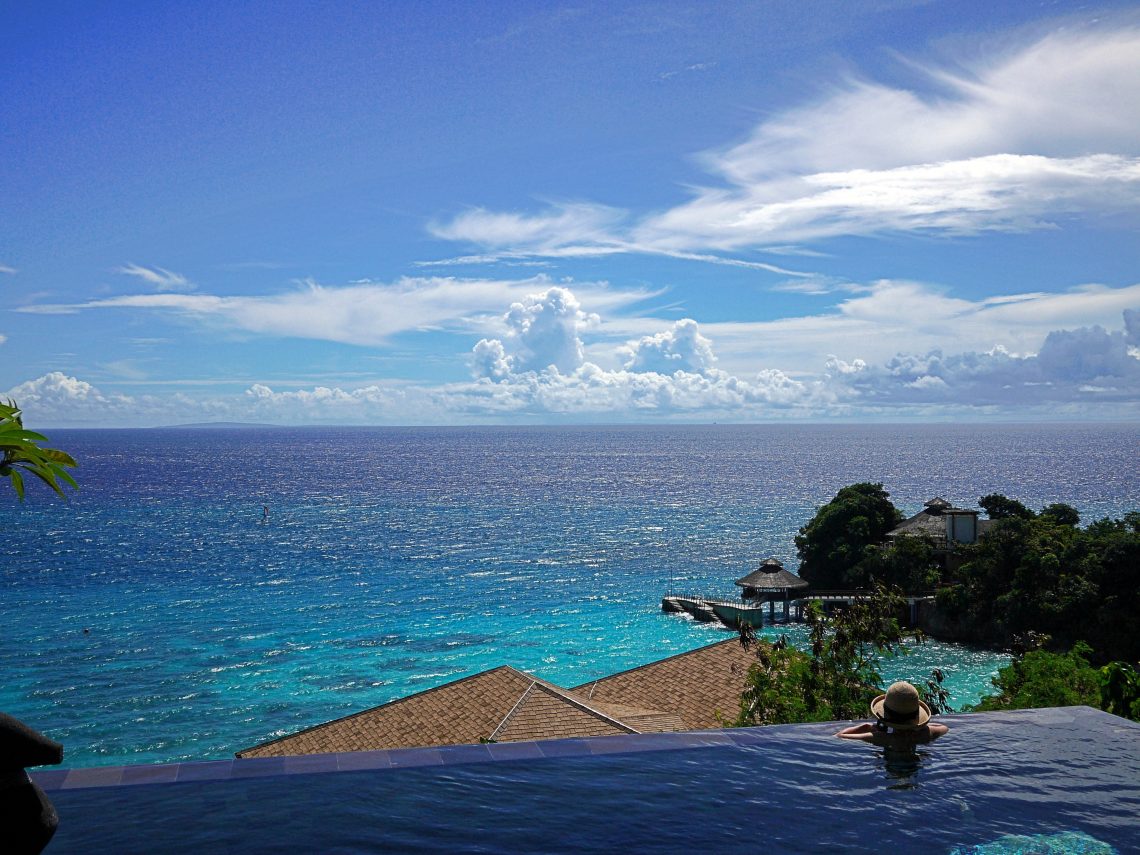 If your home boasts a beautiful view, an infinity pool is the perfect design for you. As the pinnacle of luxury pools, infinity pools create the illusion of a water
feature with a borderless edge. This illusion turns an average pool into an artistic medium, highlighting whatever views lie in the horizon. When paired with aquatic scenery, most notably the ocean, infinity pools appear to be an extension of the water body. When paired with a mountain or arboreous views, the pool serves to immerse you in the scenery. 
Infinity pools accomplish their magnificent illusion by recycling water that flows over the 'borderless' edge into a reservoir that feeds the water back into the pool.
Perimeter Overflow Pools
Similar to infinity pools, perimeter overflow pools appear to have borderless edges too. The major difference is where infinity pools wield one borderless edge, perimeter overflow pools appear to be entirely borderless. The effect this creates is a deck-level body of water that almost appears to be a mirror.
Again, like the infinity pool, perimeter overflow pools recycle water that overflows at the edges into a reservoir that continues to cycle the water back into the pool. 
Free-form Pools 
Free-form pools are simply pools with nebulous, organic shapes. Most often, free-form pool designs are utilized when creating custom designs, and are the perfect solution for the homeowner who desires a faux body of water as an aspect of their landscape. This is because free-form pools are usually designed to resemble natural occurrences of water, such as lakes, lagoons, or ponds.
Another wonderful application of a free-form pool design is tailoring a new pool to a preexisting landscape design. The undefined nature of free-form pools allow for the pool to be designed in accordance to the accents and compliments of the landscape. 
The Classic Rectangular Pool
Although it's a classic, the rectangular pool remains of staple of luxury design. This design will always work with any variety of luxury home. Additionally, the basic nature of the design allows for the creative, elegant application of landscaping features and accents.    
The beauty of this design is its simplicity, as it provides room to create the perfect, luxurious atmosphere for your elegant home.
Geometric Pools
The rigid standards of geometry make geometric pools the perfect luxury design for the meticulously laid-out landscape design. Geometric pool designs can offer either a striking continuation or a striking contrast to your property's aesthetic. Ultimately, geometric pools offer a sophisticated, crisp design that is guaranteed to be elegant. 
The possibilities are endless, from rectangles and squares, to diamonds or L-shapes, geometric pools only require an intentional, geometric design.
Low Maintenance Pools
Design aside, can you truly consider your pool luxurious if it's high maintenance? Fortunately, it's 2019, and there are plenty of features available to make your pool as maintenance-free as humanly possible. Most notably, the computer automation of your pool's systems (lights, water pumps, etc.), as well as automated circulation and cleaning systems work to make your pool ownership easy and hassle free. 
Additionally, the application of quality pool liners and pool covers ensure that your pool with last longer and require less attention. 
Lux Landscape Design Custom Pools 
If you're in the market for a luxury pool, custom designed to fit your home in San Diego County, Lux Landscape Design has you covered. Specializing in custom landscape, hardscape, and irrigation installation, we have the resources, experience, and creative eye to design and build the perfect personalized pool for your property. 
Visit our website to see our pool design gallery, and contact us today, and let us create the landscape of your dreams!